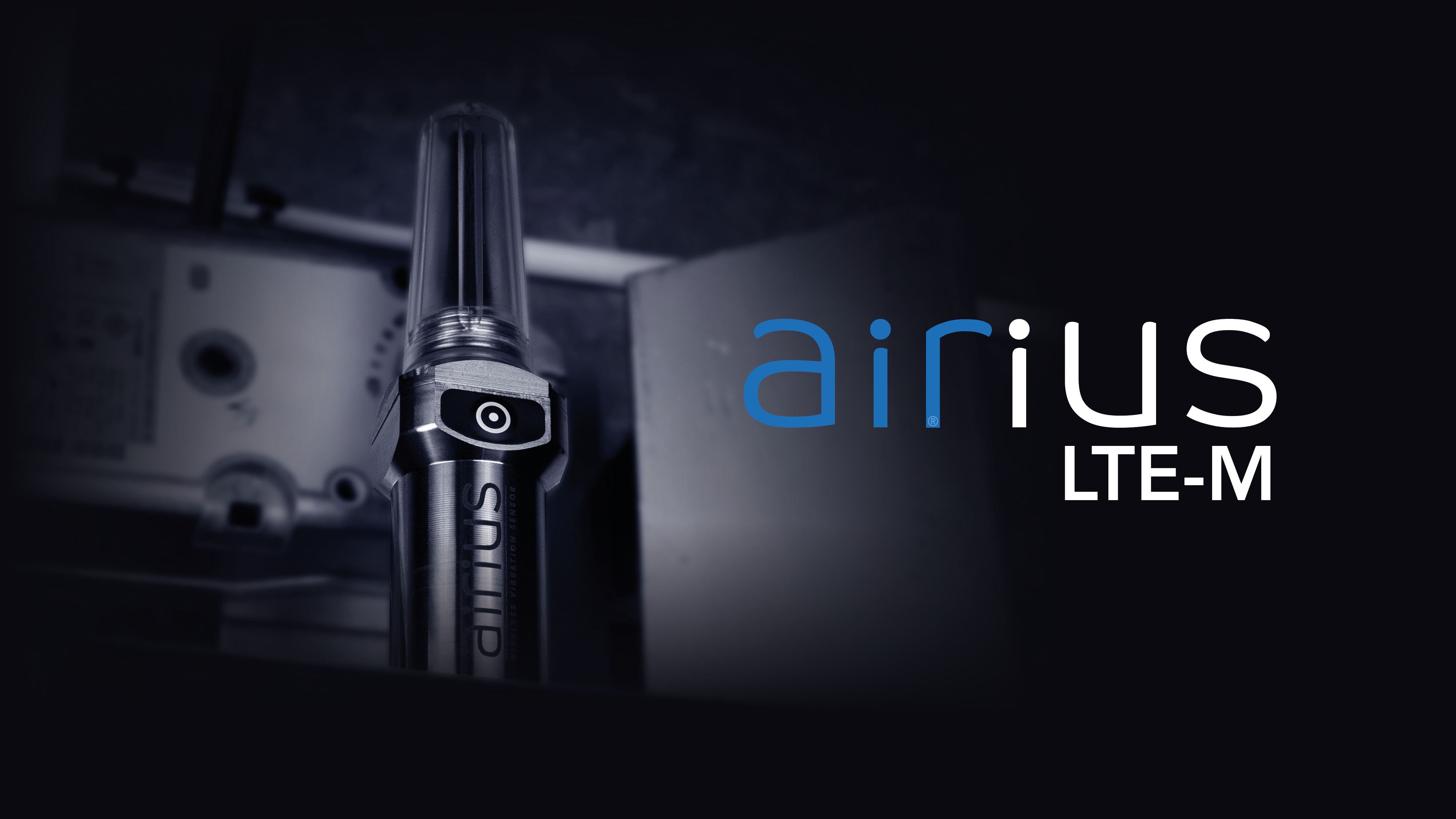 SPM Instrument launches the Airius wireless vibration sensor for LTE-M communication
The Airius range of wireless vibration sensors, first launched with Wi-Fi capability, is now introduced in a 5G-ready version for data transmission via LTE-M, the cellular connectivity standard developed specifically for IoT. Based on reliable and secure 4G networks, the LTE-M communication technology has extensive network coverage and deep signal penetration in buildings and underground.
Wireless vibration monitoring with the Airius sensor is ideal for equipment in locations not covered by the plant's local area network or Wi-Fi, such as rooftop fans, pumps and motors in water treatment facilities, pumping stations, or hydropower sites. Part of the same ecosystem of high-performance condition monitoring solutions as all other SPM products, the Airius sensor is an ideal growth platform that makes it easy to scale up when the time is right. Regardless of the product used for data acquisition, all measurement data is stored in the same software, making it easy to monitor and stay on top of machine health across plants and locations.
A reliable, secure, and future-proof IoT solution
Part of the 5G standard, LTE-M allows energy-efficient data transfer from the wireless Airius sensor via existing cellular networks, thus saving companies the cost of building and maintaining their own Wi-Fi networks.
In addition to superior coverage and penetration, LTE-M networks provide strong, built-in security because they operate within dedicated, operator-managed licensed spectrum bands. This minimizes the risk of interference.
The LTE-M radio technology also offers the benefit of allowing the remote update of the sensors, for instance, to add new capabilities and security features, thus ensuring that they stay secure and productive throughout their lifecycle.
Industry-leading measurement technology
The Airius vibration sensor measures triaxial vibration, using acceleration enveloping to detect problems such as gear and bearing faults, imbalance, and misalignment. The sensor comes in versions for two measuring ranges; 10-1000 Hz and 2-5000 Hz, both with temperature measurement. It is rated IP69 and can measure in ambient temperatures from −20 to +85 °C.
Airius supports several different vibration measurement assignments per sensor, with a user-defined number of time-based daily measurements. The signal processing algorithms and calculation routines used are the same as in the high-end Intellinova online systems and the sophisticated data collectors Leonova Diamond and Leonova Emerald.
Via SPM's REST API, it is possible to integrate measurement data stored in the analysis software Condmaster Ruby into other systems and IoT platforms. Depending on business goals and strategies, local or cloud storage can be used.
Taking into account the total cost of ownership, the battery-powered Airius version is a solid choice.
The minimal power consumption and replaceable battery design ensure a long working lifespan and low environmental impact.
Cooperation with Telia in the Nordics
SPM Instrument has developed a package solution for the Nordic market in cooperation with telecom operator Telia. It includes a three-year connection and sufficient data for four measurements per day with battery power or 24 measurements per day with an external power supply.
The package solution is developed with a high level of security. The sensor has a Telia eSIM card on the sensor motherboard, locked to the physical sensor, and a communication protocol that only allows communication initiated from the customer's own network via a secure server. The transfer from the sensor to the user is thus secure against intrusion.
Airius II LTE-M will be available for delivery at the end of August 2021. For more information about Airius or solutions for markets outside the Nordics, please contact:
SPM Instrument AB
Telephone +46 (0)152-225 00 or emal info@spminstrument.se