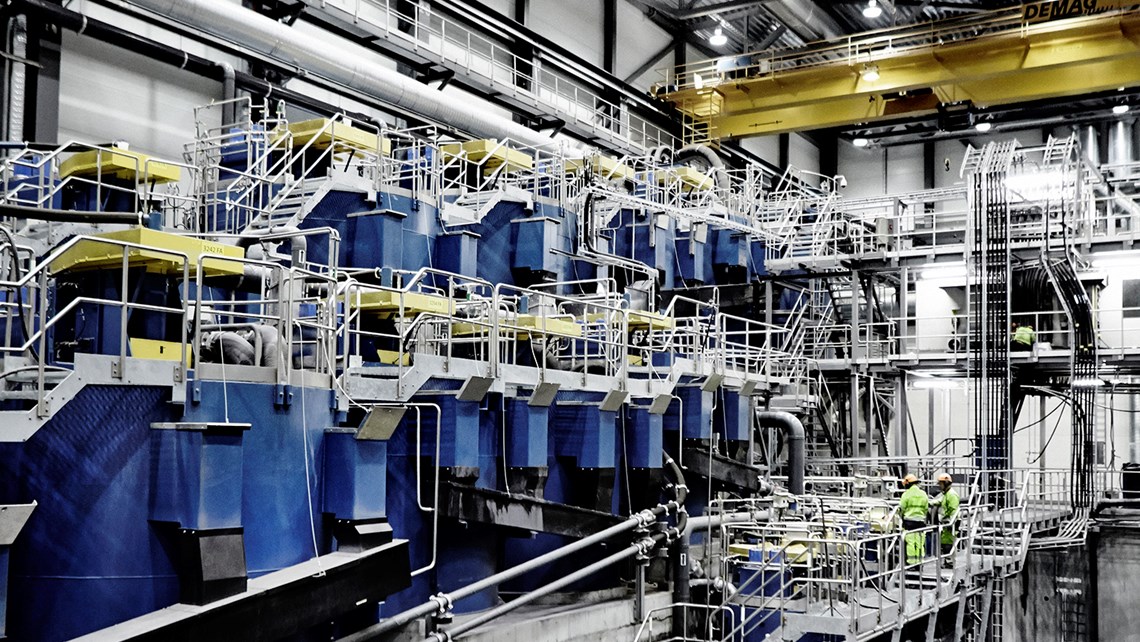 Boliden Garpenberg to monitor flotation cells with DuoTech accelerometers
Sweden's most modern mine is located in Garpenberg in southern Dalecarlia. In connection with the recent expansion of the mine a new concentrator was built, in which the flotation cells serve an important function. To ensure their reliable operation, Boliden Garpenberg now makes further investments in condition monitoring equipment.
The flotation cells play a central part in the extraction of ore. In the flotation process, the ore is concentrated and valuable minerals are separated from the waste rock in a surface-chemical process, where air and small amounts of chemicals cause the mineral particles to float up to the surface of the flotation cell, where they can be removed.
Initially, eighteen of the thirty-six flotation cells will be equipped with four DuoTech accelerometers each. The cells will be included in route-based condition measurement with Leonova Diamond, a handheld instrument which has already contributed to increased reliability in the flotation section of the concentrator plant.
The new DuoTech accelerometer makes it possible to monitor operating condition through vibration as well as shock pulse measurement using a single sensor. DuoTech supports vibration measurement with HD ENV and shock pulse measurement with SPM HD. Thanks to the combination of these unique methods, bearing and lubrication condition, unbalance, misalignment, loose parts and other machine problems can be efficiently monitored and identified with maximum prewarning time.
Maintenance engineer Mattias Danielsson comments on the investment: "To secure high availability, DuoTech accelerometers with remote measuring terminals are installed on the flotation section, which is done not only for productivity purposes but also from an ergonomic and time-efficient perspective. Prior to this installation, we had to go to each individual cell for measurements, which took a long time and some measuring points were very difficult to access."
In the Garpenberg mine, the SPM HD measuring technique is used also for monitoring the operating condition of an autogenous mill, where the ore is ground after being hoisted from the mine. The Boliden mine in Renström in Västerbotten also uses SPM HD for condition monitoring of critical equipment.
Dating back to the 13th century, Boliden Garpenberg is Sweden's oldest mine still in operation. The mine produces complex ores containing zinc, lead, silver, copper, and gold. Successful exploration, coupled with industry-leading technological development, has enabled the recent SEK 3.9 billion investments at the Garpenberg mine, increasing production from 1.4 million tonnes of ore to 2.5 million tonnes annually. As a result of these investments, Garpenberg is now one of the world's most cost-effective and modern mines. Boliden Garpenberg has approximately 400 employees.