Stroboscope
Stroboscope 18432 is ideal for non-contact measurement of rotational speed and observation of fast, repetitive motion, moving components, or handled material.
18432 is a sophisticated stroboscope with many functions, yet remains easy to use. The stroboscope provides excellent brightness, robust construction, and extra-long battery life. The unique one-touch joystick-type button allows simple operation for fast fractional RPM tuning.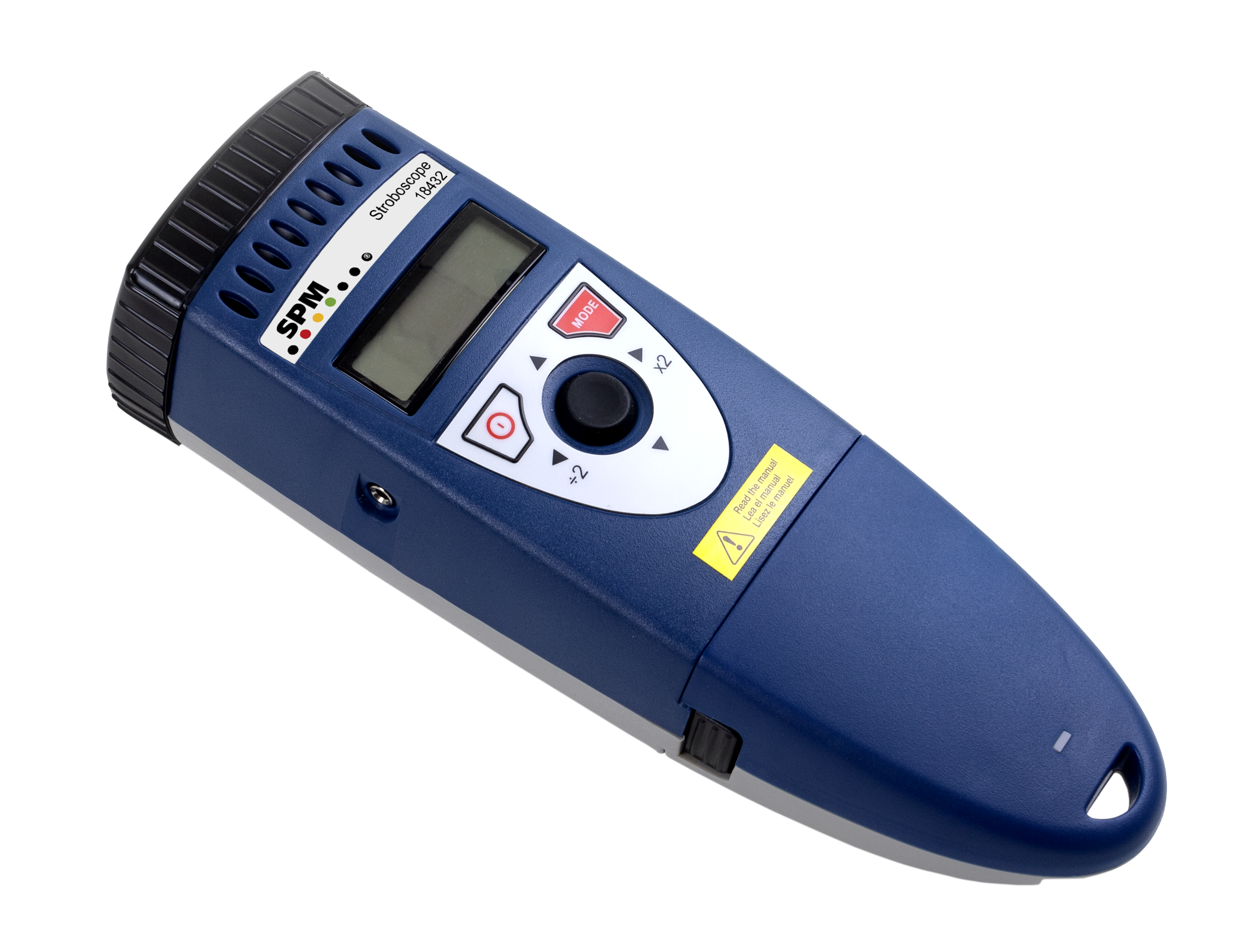 The revolving or oscillating machine component can be visualized as a stop-motion picture by adjusting the light flashes synchronously to the rate of the movement. With the multiplier/divider function, the actual RPM or frequency of the motion can be determined accurately. The phase-shift function enables visual positioning of the observed component, as well as the incremental observation of a complete course of motion in 5° steps. Due to its flash rate with low deviation from the actual motion frequency, the courses of motion can be observed under a slow-motion effect.
The ergonomic and lightweight (550 g incl. battery pack) stroboscope has a removable, rechargeable battery pack that provides up to two hours of continuous use (depending on the flash rate), and can be connected to the portable instruments Leonova Diamond and Emerald Leonova with a stroboscope cable.
Flash range: Internal mode 100 to 12500 fpm, external/tachometer mode 5.0 to 12500 fpm
Flash lamp: Xenon, 150 mJ/flash up to 3000 fpm,
7.9 Watts @ 6000 fpm, life time approx.100 million flashes
Includes battery pack and carrying case
By clicking "Submit", you agree that your message and personal details will be sent by email to relevant recipient(s) at SPM Instrument. You hereby also agree that SPM Instrument and its subsidiaries will have access to the information you have provided and that these data will be stored on our email server. The data will not be saved in any other way. We will not use this information to contact you about matters other than those specified in your request. We will not share your information with third parties.