Triaxial vibration transducer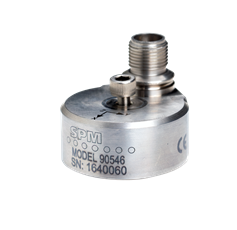 The triaxial vibration transducer is a rugged, high-impact, low-noise accelerator with broad frequency response (Z-axis 2-10 000 Hz, X and Y axis 2-7000 Hz). 
It is hermetically sealed, has ESD and EMI/RFI protection, and is equipped with a versatile M12 connector. The sensitivity is 100mV/g, and its operating temperature range is −50 to 120°C.
The transducer is suitable for three-channel measurement with the portable instrument Leonova Diamond.
By clicking "Submit", you agree that your message and personal details will be sent by email to relevant recipient(s) at SPM Instrument. You hereby also agree that SPM Instrument and its subsidiaries will have access to the information you have provided and that these data will be stored on our email server. The data will not be saved in any other way. We will not use this information to contact you about matters other than those specified in your request. We will not share your information with third parties.
Technical overview
Designed for both route-based and permanent-mount applications, the triaxial accelerometer hosts three general-purpose, 100 mV/g vibration sensors with ±10% sensitivity tolerance. It features a versatile M12 connector and an external casing in a thick shell for high resistance to impact.

Installation materials
Connectors, cables, and service box
We offer a wide range of connectors in composite or stainless-steel material. Composite material provides benefits such as vibration dampening and weight reduction, while stainless steel can withstand mechanical forces and works both in high and low temperatures, etc.
For our connectors, we supply various types of cables, and to further secure the installation, we supply uncovered, acid-proof stainless steel conduits. These are protective covers slipped onto the cable and fixed to the transducer at the connector. Stainless steel cable clips are available for holding the conduit. For the protection of cable joints from moist and water, a stainless, acid-proof steel service box is available.
Contact your SPM representative to learn more and discuss your needs.