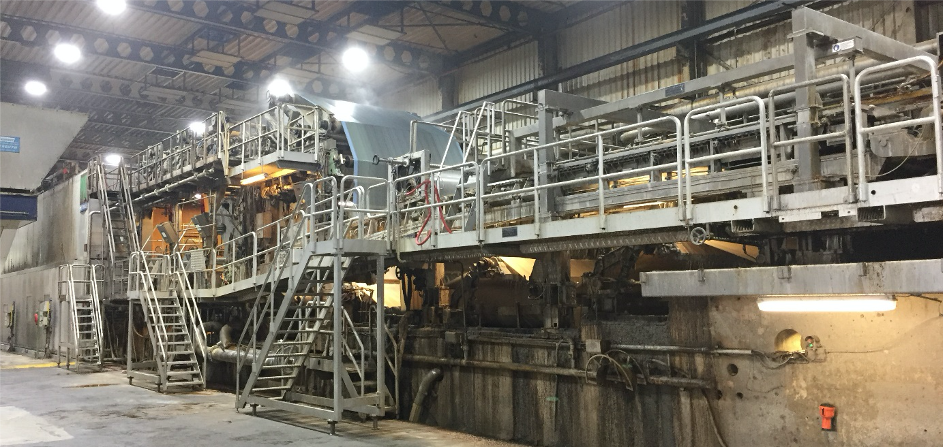 Eska equips board machine with online condition monitoring
Dutch solid board producer Eska has decided to equip the PM7 board machine in its Hoogezand plant with an online condition monitoring system from SPM Instrument. Eska has chosen the Intellinova Parallel EN and Intellinova Standard systems for monitoring this critical machine.
Eska's goal for the future is to extend its condition-based maintenance. The investment in the Intellinova online systems from SPM Instrument fits well with this maintenance strategy and maintenance planning optimization, where Eska is extending maintenance stoppage intervals from six to twelve weeks. This prolongation of maintenance intervals makes it crucial to detect bearing damage at the earliest possible stage. Furthermore, the company is working on improving machine barriers to increase workplace safety. At the same time, these improvements mean that traditional measurements with portable equipment on the bearings are no longer possible. Thanks to this investment in online condition monitoring, Eska is ready for the future and Industry 4.0.
With an online condition monitoring system, periodic maintenance can be postponed, and the service life of the various applications extended. As a first project, eighty DuoTech accelerometers have been installed on PM7, enabling vibration as well as shock pulse measurement. The patented measurement technologies HD ENV, SPM HD, and HD Order Tracking provide insight into the mechanical and lubrication condition of the monitored applications, even at extremely low speeds. When condition deteriorates, these measurement technologies ensure very long pre-warning times. The system was installed jointly by SPM Instrument and Eska during 2019.
Maintenance Engineer Gerben Oppewal about the investment: "With this online condition monitoring system, we are taking significant steps in the field of worker safety and machine reliability. Previously, we could not measure all bearings in the vulnerable wet section. However, with this investment, we will have this option. With the help of the online system, we expect to prevent bearing damage because lubrication problems are detected earlier. If damage still develops, we will now be warned early. This is important with respect to our goal to double the time between maintenance stops. We expect good cooperation with SPM, which also fits well with our wishes with Industry 4.0 for the future."
Eska has two production locations in the Netherlands; one in Sappemeer (since 1879) and the other in Hoogezand (since 1897). Eska produces 275,000 tons of solid cardboard per year, which is used, among other things, for book covers, puzzles, and luxury packaging. The company also has international subsidiaries.