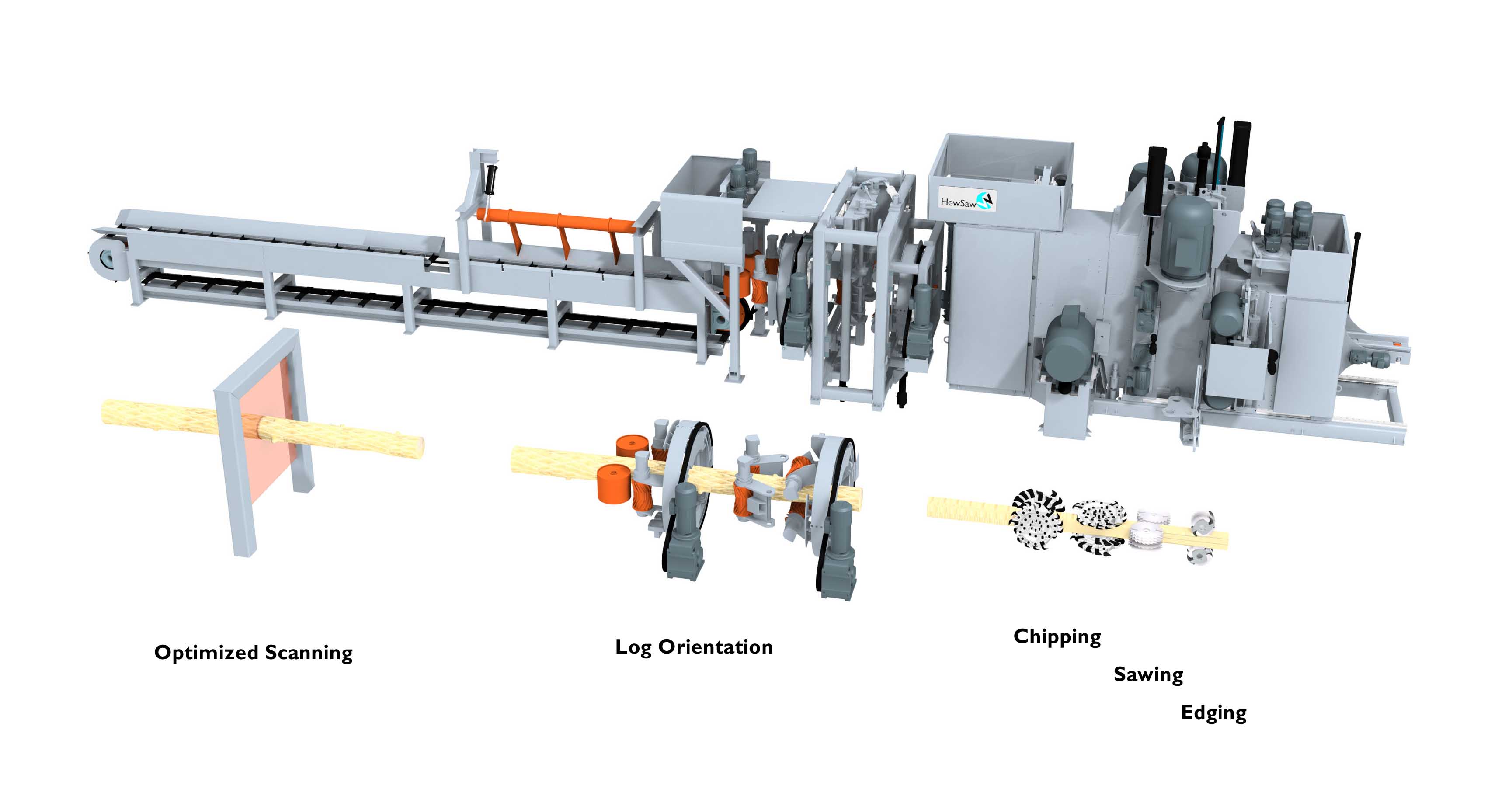 HewSaw Sweden invests in online system for saw line focusing on Industry 4.0
HewSaw Sweden, retailer of production lines in the wood processing industry, have chosen Intellinova Parallel EN for monitoring a saw line at VIDA Wood Nössemark.
The wood processing industry has undergone significant advances in the past ten years. The saw line, in particular, is an area in which repeatability and quality are key. Maximizing the sawing yield in each log of timber and making sure that all timber products maintain the same quality is the main priority.
HewSaw Sweden, a subsidiary of Veisto Oy which is a leading manufacturer of sawing machines, have their saw line HewSaw R200 1.1 installed at VIDA Wood Nössemark. VIDA Wood manufactures and sells construction timber and boards worldwide, where the most significant markets include the United Kingdom, Sweden, Denmark, USA, and Japan. To maintain a consistently high quality in VIDA Wood's production, HewSaw contacted SPM Instrument to find a high-performance condition monitoring solution with a focus on data quality and Industry 4.0 to match their high-tech products.
The choice fell on Intellinova Parallel EN. Intellinova Parallel EN is the latest and most advanced online system from SPM Instrument, consisting of sixteen parallel channels providing high-performance and flexibility in terms of measurement configuration. The system is prepared for Industry 4.0, offering multiple modes of communication through REST API and OPC UA, allowing integration into the customer's PLC. The system will be completed with twenty-six DuoTech accelerometers and eight temperature transmitters. DuoTech combines vibration and shock pulse measurement in a single sensor. Combining Intellinova Parallel EN and DuoTech allows the customer to take full advantage of the patented HD condition monitoring technologies, providing exceptionally long pre-warning times in cases of reduced mechanical condition. Early warning maximizes the customer's planning horizon, thus enabling increased machine availability.
Claes Backlund, Managing Director of HewSaw Sweden, commented: "This installation at VIDA Nössemark is a pilot for us, where we together with VIDA look forward to learning even more about how to control our efficient saw-line. VIDA is a great partner in this project and have a clear goal with the installation. HewSaw has decided to increase our level even further, and as port of this become more process oriented together with the bearing monitoring system from SPM. This will contribute so that HewSaw will maintain its leading position in machines for the sawmill industry."
Installation and deployment of the system, carried out by SPM service engineers, takes place during the spring of 2019. The solution will incorporate a condition monitoring service from SPM where deteriorating operating condition is reported to the customer via the web portal SPM Servicenet. Personnel from the customer will also attend a basic course in condition monitoring at SPM Academy and system-specific training on site.
Veisto Oy is a long-established, family-run company that designs and manufactures HewSaw single pass production lines and machines for sawn timber. The company is based in Mäntyharju, in the heart of the Finnish Lake District. Its reputation as a leading manufacturer of sawing machines has spread far afield, with exports accounting for about 80% of the company's production. HewSaw Sweden is responsible for marketing and aftermarket activities in Sweden, Norway, and Denmark. Veisto Oy and HewSaw employ over 200 professionals worldwide.
Other Swedish sawmills using condition monitoring equipment from SPM are Södra Wood Värö, which also uses Intellinova Parallel EN, Holmen Timber Braviken Sawmill using the portable instrument Leonova Diamond, and Södra Wood Mönsterås which conducts online measurements on its lumber dryer. 
Intellinova® Parallel EN is a powerhouse of functionality and performance, ideal for condition monitoring of industrial equipment with high availability demands.
DuoTech offers a powerful combination of our patented HD technologies, providing maximum flexibility. The combination enables superior lubrication and bearing monitoring – covering the entire bearing deterioration process – as well as the detection of vibration-related problems.
Condition monitoring with High Definition (HD) technologies provides exceptional pre-warning times, thus maximizing the planning horizon for maintenance and repairs. In turn, this enables fully utilizing asset life, cutting repair costs, and minimizing the consequences of unplanned downtime.