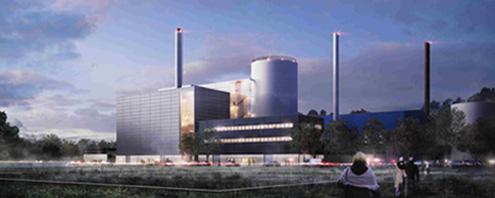 Intellinova Compact to be installed at Landskrona Kraft
For its new combined heat and power plant, public utility company Landskrona Kraft AB has chosen Intellinova Compact for online condition monitoring of plant machinery.
Landskrona Energi supplies district heating to large parts of the city of Landskrona, located in Skåne in southern Sweden. In order to renew and extend its current capacity, a combined power and heating plant is now being built, a EUR 550 million investment. The new CHP plant is a combined waste-fired (paper, wood and plastics) and biofuel-powered plant that will produce 23 MW of district heat, and the flue gas condensing system will provide a further 4.5 MW. In addition, 7 MW of electricity will be produced.
In conjunction with the construction of the plant, six units of the Intellinova Compact online system will be installed. All versions of the system will be used in the plant, enabling highly efficient use of system channels and a minimized amount of transducer cabling. The SPM HD® measuring technique will be combined with vibration analysis to monitor machine and bearing condition on heat pumps, feedwater pumps, primary and secondary air fans and flue gas fan, totalling nine pumps and three fans.
The procurement process was handled by Reng Consulting AB for Landskrona Kraft. Fredrik Rosengren, maintenance manager at Landskrona Kraft, comments the choice of Intellinova Compact: "We chose SPM because the technical solutions take advantage of proven technology that feels robust. SPM also has a well-functioning service and support organization and are well known in the condition monitoring industry. Furthermore, SPM offered more overall functionality in relation to cost than the competitors."
The new CHP plant is scheduled for completion in late 2012.