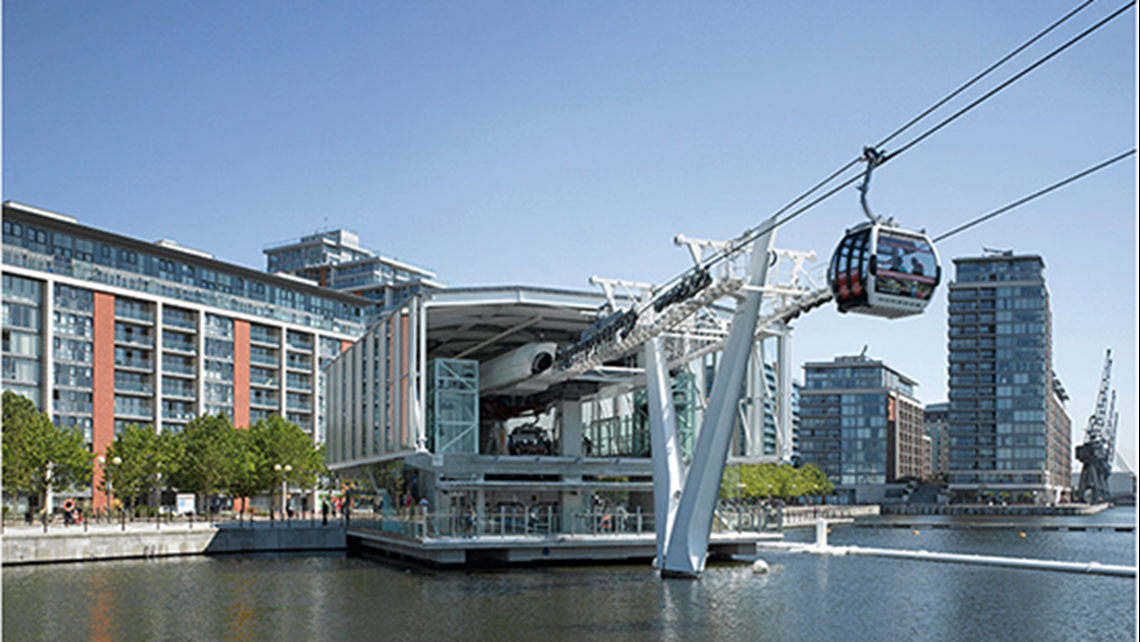 Leonova Emerald keeps Emirates Air Line cable cars flying safely
Doppelmayr Cable Car operates and maintains the Emirates Air Line cable car in London, UK. This recent landmark addition to the London skyline is kept in good shape through a condition-based maintenance strategy. Working towards continued high overall availability, Dopplemayr Cable Car recently opted to upgrade its portable condition monitoring by investing in the portable data collector Leonova Emerald.
Due to its position as an important part of the transportation system in London and the worldwide reputation of the Doppelmayr company, the safe and reliable operation of the Emirates Air Line is a top priority. Doppelmayr Cable Car hence strives to continuously improve the resources and equipment used to successfully run and maintain the system, which boasts an overall availability of 99.93% over five years.
Safe transportation of every traveler on the cable car is the key objective. Machine breakdowns, therefore, must be avoided at all costs. Moreover, unplanned downtime not only causes travel disturbances for commuters but also has reputational and financial implications. Well-planned maintenance minimizes costly downtime and ensures a system that meets all manufacturer and cable car regulations and standards.
Condition monitoring is an important element in predictive maintenance and asset management; enabling early fault detection, it greatly reduces the risk of downtime. The portable instrument T30 from SPM, which has been used for route-based condition measurement on the cable car system since operations began, has recently been replaced with Leonova Emerald. Incorporating HD condition monitoring technology, this high-performance data collector offers powerful analysis and troubleshooting features. 
The main targets for condition monitoring are the bullwheels in each station, which guide and propel the rope to which the cabins are attached. The main drive motor and gearbox are also critical to operations and thus included in the condition monitoring program. Gear oil pumps, water cooling pumps, and cooling fans in and around the cable car drive building are monitored on a regular basis as well.
Doppelmayr Cable Car in London has used SPM equipment since 2012, as have some other Doppelmayr installations around the world. Reliability and precision are key, and Doppelmayr has found that SPM products always meet these demands.
Chris Giles, Operations and Maintenance Manager with Emirates Air Line, stated: "SPM is an extremely professional company that was able to meet our needs. A visit from an SPM representative to our site allowed us to really understand the products and capabilities we required for an upgrade. We had also taken the option to have some of our staff trained in on our chosen device, which has already had a positive outcome to all involved in the capturing of data. Lastly, the product was ordered and received with minimal effort. For sure, SPM are our go-to people. In the future," Chris Giles continued, "we should investigate how extensive condition monitoring here on the London system could assist in future projects of Doppelmayr Cable Car."
Inaugurated in June 2012, the Emirates Air Line is the only urban cable car in the UK. Crossing the River Thames between Greenwich Peninsula and the Royal Docks in London, the ten-minute ride (five minutes during peak hours) offers scenic views of the city from a height of approximately ninety meters.