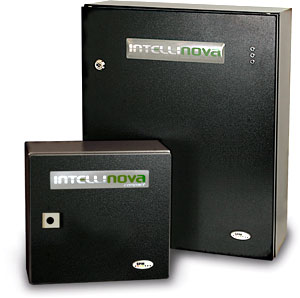 SPM Instrument introduces Intellinova Compact
SPM Instrument, Sweden, leading worldwide provider of condition monitoring technology and products, now announces the arrival of Intellinova Compact, the latest addition to the successful Intellinova family of products for online condition monitoring of rotating machinery.
Intellinova Compact is a high-performance system, well suited for remote monitoring or industrial environments with measuring points in spread-out clusters. Wind turbines, pumping stations and auxiliary equipment in the pulp and paper industry are a few examples where Intellinova Compact is the ideal condition monitoring solution. Fans and gearboxes are other typical applications. Because it implements the new and sophisticated SPM® HD measuring technique, it is also the appropriate choice for any low-speed application, such as agitators, crushers and conveyors.
Three versions of the system
The system is available in three versions, each with a fixed channel configuration for shock pulse and vibration measurement. All versions come with multiple rpm and analogue inputs as well as status outputs. The size of the industrial enclosures is merely 300*300*155 mm (11.8*11.8*6.1in) or 380*300*155 mm (15*11.8*6.1in), making the system easy to install. As an option, all units have wireless communication capability, enabling remote monitoring, service and support. Utilizing all the channels, Intellinova Compact is a very cost-effective solution. By installing multiple smaller units, connected through a standard Ethernet cable, the costs for transducer cabling can be significantly reduced. When configured with application specific data, Intellinova Compact also works as a standalone unit, using the status outputs for alarm purposes.
A powerhouse of measurement performance
Despite its modest size, Intellinova Compact is a powerhouse of measurement performance. Meticulous engineering, using state-of-the-art electronics, brings measurement quality to a new level. Carefully optimized measurement dynamics, eliminating the need for gain adjustments, enable supreme signal-to-noise performance, where weaker signals are not drowned out by dominant signals such as from gear mesh. With the Intellinova Compact, the measuring efficiency and accuracy of shock pulse and vibration measurement is better than ever.
SPM HD for shock pulse measurement
Intellinova Compact utilizes the SPM HD measuring method for shock pulse measurement. It is an advanced and patent pending measuring technique suitable for all types of applications and particularly well suited for low-speed machinery. SPM HD combines the unique features of the shock pulse transducer with advanced digital algorithms inspired by traditional vibration analysis. The method makes optimal use of hardware and software capacity for maximized performance. The sophisticated digital algorithms provide very high dynamics, enabling the method to distinguish the desired signal from interference.
Offering optimal cost efficiency per measuring channel, Intellinova Compact provides high performance and easy to use solution for your online condition monitoring needs.
Delivery
Intellinova Compact will be available for delivery Q2, 2011