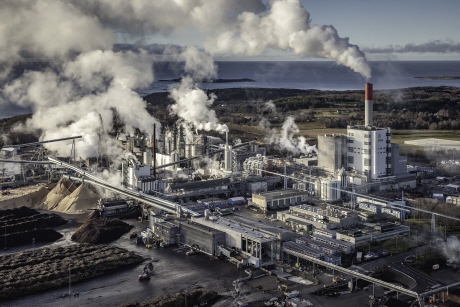 SPM to deliver online system for Phase II of project Expansion Södra Cell Värö
Two years ago, Swedish forestry group Södra decided on a major expansion of its pulp mill in Värö, sixty kilometers south of Gothenburg. The expansion project, estimated to cost approximately EUR 437 Million, runs for two years and will be completed during the third quarter of 2016.
In the first phase of the expansion project, Valmet - the main supplier of process equipment for the new pulp mill - placed an order for the Intellinova Compact online system. In Phase II, the system will be expanded to include monitoring of the roller bearings of five low RPM roller presses.
Södra Cell Värö made its first investments in online systems from SPM Instrument in 2013. Commenting on these investments, Preventive maintenance manager Stefan Glendell said: "At Södra Cell Värö, we are convinced that online measurement is an important tool for us in our quest to continuously improve the availability of our process machines. SPM delivers a technology that we believe in. This in combination with good support functions and competitiveness led us to choose SPM as a supplier."
Södra Cell Värö thus has several years of experience with Intellinova Compact and the SPM HD measuring technique which is applied to much of the plant's critical equipment in order to optimize uptime and ensure profitable production. SPM HD has been successfully used on machines with low speed (<15 rpm) for reliable analysis of mechanical condition.
Södra Cell is one of the world's leading paper pulp manufacturers. The group has three pulp mills; Värö, Mönsterås, and Mörrum. The factory in Värö just north of Varberg on the Swedish west coast is one of the world's largest and most modern pulp mills. The mill produces 425,000 tons of pulp per year, as well as green electricity, district heating, and biomass in the form of dried bark. In addition to an increase in production capacity to 700 000 tons of pulp per year, the expansion of Södra Cell Värö will also increase the energy efficiency of the plant.