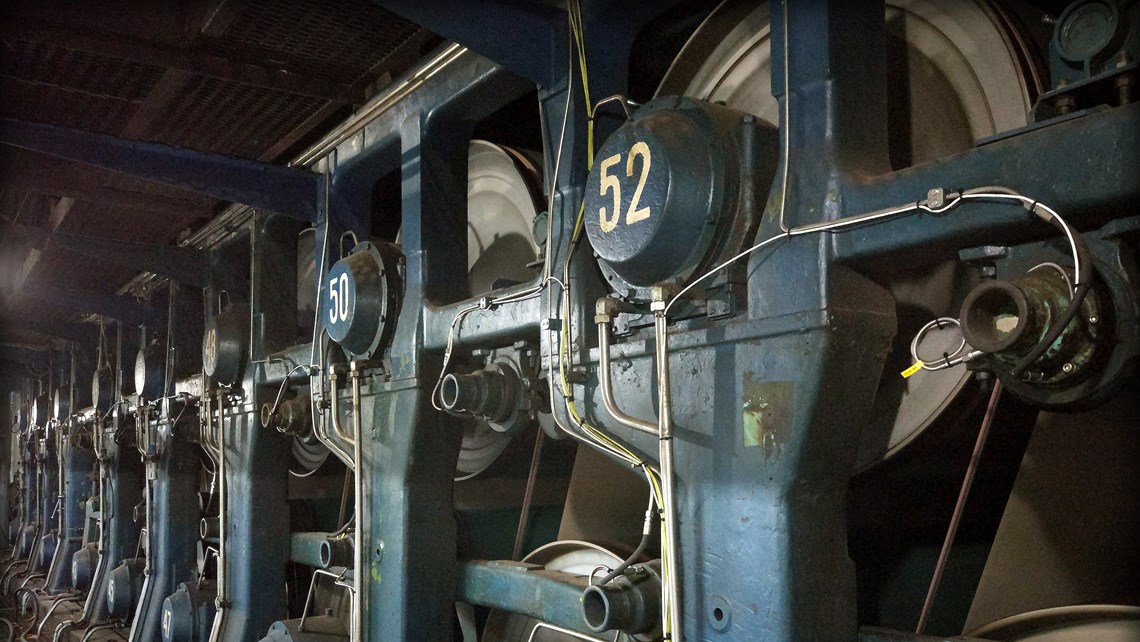 Successful Intellinova installation at Vrancart S.A. Adjud
Romanian paper mill Vrancart S.A. Adjud is one of the country's most important producers of corrugated cardboard, paperboard and tissue papers, with over thirty-eight years of activity in the field.
Vrancart S.A. Adjud is currently undergoing a process of modernization. A big part of this is focused on increasing the productivity of the K25 board machine; hence a decision to invest in an online vibration monitoring system was taken.
After a long and thorough analysis of the market, SPM's online system Intellinova with vibration monitoring units and DuoTech accelerometers was chosen.
"After twelve years of condition monitoring with portable instruments, we see a great benefit in having an online condition monitoring system that can help us see in real time the dynamic behaviour of the machine and also determine how the changes in technological parameters are influencing that. All of that will help us to further increase the speed of the machine and with that the productivity. DuoTech was the decisive argument for choosing SPM, being able to provide the benefits of both the vibration and shock pulse technologies. The ability to obtain a longer pre-warning time has also played an important role," said Radu Alexe, Predictive Maintenance Specialist at Vrancart S.A.
Contented with the investment, Maintenance Manager George Buzdug said: "The technique we have implemented provides early indications of bearing wear. It allows us to prevent malfunctions and we can schedule interventions when there is a risk of equipment failure. We are confident that the choice of technology made, coupled with strong support from SPM, will guarantee success".
In conjunction with the installation of the Intellinova system, existing vibration sensors and cabling, used for remote measuring points with their handheld instrument, were integrated into the online monitoring units. The online system was also expanded to include more measuring points on the board machine K25, where one hundred and forty DuoTech accelerometers were installed and connected to the system. In total, the system covers over two hundred measuring points on the felt rollers, gears, suction rolls and press roll bearings.
The new DuoTech accelerometer combines the best of two cutting-edge condition monitoring technologies. Vibration measurement with HD ENV and shock pulse measurement with SPM HD make it possible to obtain a complete condition status of the monitored objects, with exceptionally clear readings and very long pre-warning times for reduced mechanical condition.
Deputy General Manager Mr Mihai Marin on the significance of condition monitoring at Vrancart: "Vrancart S.A. continuously invests in new technologies that can provide maximum availability of our plants as well as a productivity increase under safe conditions. The online vibration monitoring system is one of the projects currently conducted by our company for this purpose. The two HD ENV and SPM HD technologies provide a complete and complex view of the condition of the monitored equipment, a clear and early detection of the evolution of a defect, allowing the Maintenance team to act in a proactive manner, by scheduling interventions in due time on all the plants monitored online."
SPM Instrument Bulgaria EOOD is the main contractor for the project, responsible for installation and commissioning, carried out by SPM service engineers. Rares Iacob, country representative for SPM Instrument in Romania, comments on the deal: "This is an extremely important installation, being the first online condition monitoring system for a paper factory in Romania. It confirms that we are a leading supplier of condition monitoring equipment, with measurement technologies and systems in the extreme cutting edge. We are proud to help Vrancart SA in achieving their goals."