Intellinova® Standard is an online condition monitoring system where well-proven methods and modern technology meet to ensure the highest possible uptime of critical assets.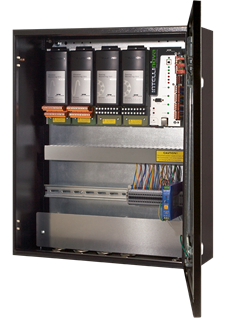 Cost-efficient system for large installations
Offering optimal cost-per-channel, Intellinova Standard is the ideal condition monitoring solution for installations covering many measuring points. The system, accommodating up to 32 channels, is appropriate for the vast majority of standard and high-demand applications where measurement is not time-critical, such as paper machines, pumping stations, or air handling units. Implementing HD condition moni­toring technologies, it is perfect also for low-speed ap­plications, delivering reliable condition data from below 0.1 RPM and upwards.
Exceptional flexibility and performance
Intellinova Standard is distinguished by its high level of flexibility and ease of use, enabling fast implementation of customer-defined solutions. Accuracy and reliability are also trademarks of this high-performance system. The system combines complex measuring techniques and advanced data processing with a user-friendly interface and a variety of options for individual system customization. The result is a highly flexible, high-performance system delivering easily understood condition information that will help you make the most informed maintenance decisions.
Intellinova Standard is fully compatible with its siblings in the Intellinova family of online systems and can be run in an integrated system or as standalone units.

SCALABILITY AND INTEGRATION
Intellinova Standard is a scalable solution and can be tailored to meet the needs of your plant. Compatible with other SPM products, it can be integrated with existing solutions.

INTELLIGENT MEASUREMENT
Around-the-clock monitoring can yield large amounts of data. A wide range of options is available to ensure that only relevant condition data are stored to database.

INDUSTRIAL RUGGEDNESS
Intellinova Standard is designed for tough industrial environments and long-term use – appropriate for the vast majority of standard and high-demand applications.
Check out Intellinova Compact EX or Intellinova Parallel EN Ex, both are advanced online systems, intended for use in potentially explosive environments for monitoring of machine condition. Intellinova Parallel EN Ex is the most advanced from SPM Instrument, it continuously monitors your critical equipment, capturing relevant events without delay. Implementing HD condition monitoring technologies, the system is the ideal choice for industries where demands are high and for low speed applications (from below 0.1 RPM). The advanced functions makes the instrument ideal where measurement is time-critical due to short process cycles.
By clicking "Submit", you agree that your message and personal details will be sent by email to relevant recipient(s) at SPM Instrument. You hereby also agree that SPM Instrument and its subsidiaries will have access to the information you have provided and that these data will be stored on our email server. The data will not be saved in any other way. We will not use this information to contact you about matters other than those specified in your request. We will not share your information with third parties.
Technical overview
Intellinova Standard
The Intellinova system is centered around the Commander Units, each unit serving up to 32 channels for shock pulse, vibration and/or analog measurement in a user defined combination. A dedicated communication software triggers, controls and filters measurements and data, and handles all messaging between the database and one or more Commander Units. 
The Intellinova System is comprised of an industrial enclosure, a Commander Unit, internal cabling and terminals for power supply. Up to four monitoring units can be mounted and are ordered separately. The enclosure, intended for wall mounting, is robust and sealed for use in harsh environments.
The unit has a flange with one cable inlet for eight measuring cables plus two cable inlets for power supply and network connection. It has three blind plugs where additional cable inlets (Pg29) for up to 32 measuring cables can be mounted. Holes for cable inlets intended for digital in- and output connections have to be drilled. The DIN rail has terminal blocks and cabling for connection of power supply. The unit has an earth rail (DIN) where the measuring cable shields should be connected. The unit is equipped with plastic cable channels and status indicators on the lid. Power supply unit, accessories for DIN rails, internal cabling and cable inlets are ordered separately.
Dimensions:

INO18:
500x600x210 mm
(19.7x23.6x8.3 in)
INO22:
480x480x155 mm
(18.9x18.9x6.1 in)
Intellinova Portable
In addition to the standard cabinet, we offer a MIL standard carrying case, a suitable alternative for test installations or temporary monitoring of critical machines.
The Portable System Unit is comprised of a Commander Unit mounted in a sturdy MIL standard plastic carrying case (available with wireless 3G router) with connectors, internal measuring cables and a power supply unit. The case fits a full blown Intellinova system, using all the same components as the non-portable version and with all the features.
This system unit allows rapid installation and is ideal for test installations, temporary monitoring of critical machines, etc. It can also be used as a multichannel logger with data acquisition based on various triggers, stand-alone or in networks.
The carrying case has TNC connectors with coax cables for bearing monitoring on 16 channels (two monitoring units), 2-pin connectors for vibration monitoring on 8 channels (one monitoring unit) and cable inlets for connection of one analog monitoring unit. The case has exterior power supply inlet with switch, network connector and status indicators. Monitoring units are ordered separately. Power supply cable is not included.
Dimensions:

530x437x217 mm
(20.9x17.2x8.5 in)
Intellinova Rack
Existing hardware installations, space limitations and various other factors may influence your requirements. The Commander and monitoring units can be mounted in a 19 inch rack mounting for space-preserving installation of multiple units.
INR20 is an Intellinova System Unit for 19 inch rack mounting. It has a built-in Commander Unit with sockets for up to four monitoring units. The back panels are equipped with terminal blocks and internal cabling for connection of power supply and digital in- and outputs. The system unit has LED indicators on the front panel showing its status.
Monitoring units, back panels with internal cabling and power supply unit are ordered separately.
Dimensions:
482x132x365 mm
(19"x3U)