Machine alignment with the LineLazer sensors
LineLazer is a precision shaft alignment solution for use with the data analyzer Leonova Diamond® or with the SPM LineLazer app. This dual laser system for quick and reliable shaft alignment is suitable for most combinations of machinery; horizontal, vertical or flange-mounted, with coupled or uncoupled shafts.
LineLazer alignment sensors
The IP65 rated alignment sensors use digital signal processing to easily and automatically distinguish from interfering light sources. High precision digital CMOS linear image sensors provide maximum accuracy. The sensors communicate via Bluetooth, enabling hassle-free shaft alignment.
LineLazer alignment app
For efficient and user-friendly laser alignment of rotating equipment. The LineLazer app, designed for use with the LineLazer precision shaft alignment sensors, ensures a smoother-than-ever alignment process. The LineLazer app guides the user through the alignment process in an intuitive way. With a visually appealing interface, it provides straightforward guidance to the feet corrections necessary to achieve a perfectly aligned machine. Available for Windows, iOS, and Android devices, the LineLazer app is free to download from AppStore and Google Play.
Reliable and hassle-free machine alignment
Dual axis high precision inclinometers measure the angle of rotation of both detector units at all times. This allows measurements in fully automatic mode, with much less than a half-turn of the shaft. The system comes with robust aluminum brackets and extendable chains for up to 480 mm (18") diameter shafts.
The LineLazer Alignment Kit (together with Leonova Diamond) performs alignment calculations for horizontal as well as vertical or flange-mounted machines. Soft foot check, thermal growth compensation, and tolerance checks are built-in. The severity of the misalignment is indicated in green-yellow-red. The 'Feet lock' function automatically provides alternative alignment corrections, making the alignment procedure quick and easy.
By clicking "Submit", you agree that your message and personal details will be sent by email to relevant recipient(s) at SPM Instrument. You hereby also agree that SPM Instrument and its subsidiaries will have access to the information you have provided and that these data will be stored on our email server. The data will not be saved in any other way. We will not use this information to contact you about matters other than those specified in your request. We will not share your information with third parties.
Technical overview
The alignment sensors are identical with the exception of the position of the laser diode and the knob for adjustment of the laser on the 'M' sensor. The ­sensors communicate wirelessly with Leonova Diamond via Bluetooth.
The alignment sensors provide maximum accuracy using a spread laser beam in combination with a 28.7 mm detector. Through digital filtering, the laser beam can be distinguished from interfering light sources. Both alignment sensors are transmitters/detectors.
The alignment sensors have dual axis ­high precision ­inclinometers which measure the angle of ­rotation of both alignment sensors at all times. This allows ­measurement in fully automatic mode, with much less than a half-turn of the shaft. Measurement results are displayed in 100ths of millimeters or 1000ths of an inch.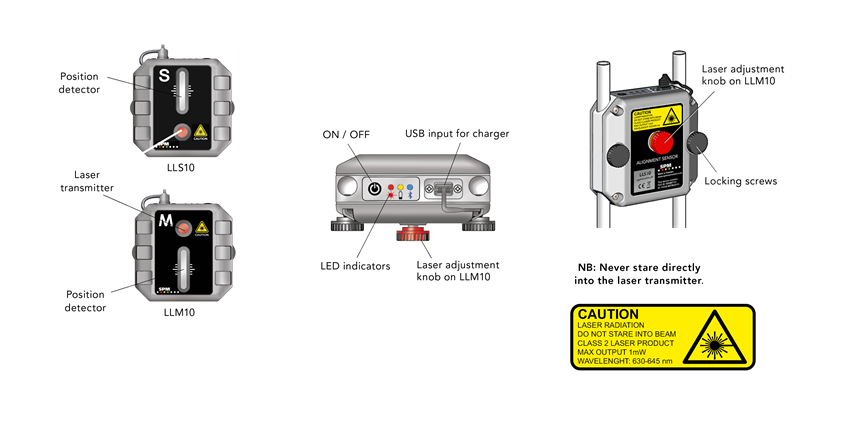 Measuring range: up to 10m (32.8 ft)
Firmware: built-in self-diagnosis and functions for calibration, signal processing
Internal batteries: Li-ion, rechargeable
Operating time: > 12 hours normal use
Operating temperature: −10 to +50 °C (14 to 122 °F)
Connector type: mini-B USB for communication and battery charge
Communication: Bluetooth v4.0 Class II
Housing: PC plastic/anodized aluminium
Protection: IP65
Dimensions: LLS10; 86x81.5x40 mm (3.4x3.2x1.6 in) LLM10; 86x81.5x46 mm (3.4x3.2x1.8 in)
Weight: approx. 230 g
Accessories
The LineLazer Alignment Kit
Contains alignment sensors, robust aluminum brackets, extendable chains, rods, battery charger, cables, Bluetooth dongle, and tape measure. A convenient carrying case is optional. The kit fits a multitude of applications, for example, compressors, gearboxes, generators, and pumps.
Shims
Solid, high-quality stainless shims are supplied individually, marked with their size thickness. The shims come in packs of 10 and also in assortments of cases for ease of use. High-quality, accurate, and individually marked, they help cut the time for machine alignment to an absolute minimum. Read more.